Show Results 2023
~~~ Our Show Team for 2023 ~~~
** The Boys **
Peri - Haydengold One More Knight JW (Owned by F. Clark)
Bradley - Haydengold Just a Rumour at Sunandair JW (Owned by P. Archer)
** The Girls **
Rumour - Haydengold Rumour Has it JW
Remy - Haydengold Time to Remember KCSBN
Serena - Haydengold Gossip Girl JW
Whisper - Haydengold Whisper Secrets (Owned by F. Smithies)
___________________________________________________________________
9th March 2023
CRUFTS
Championship Show
Judge: Mr Ray Strudwick (Bitches)
Serena - 1st Junior Bitch Class (29 entries)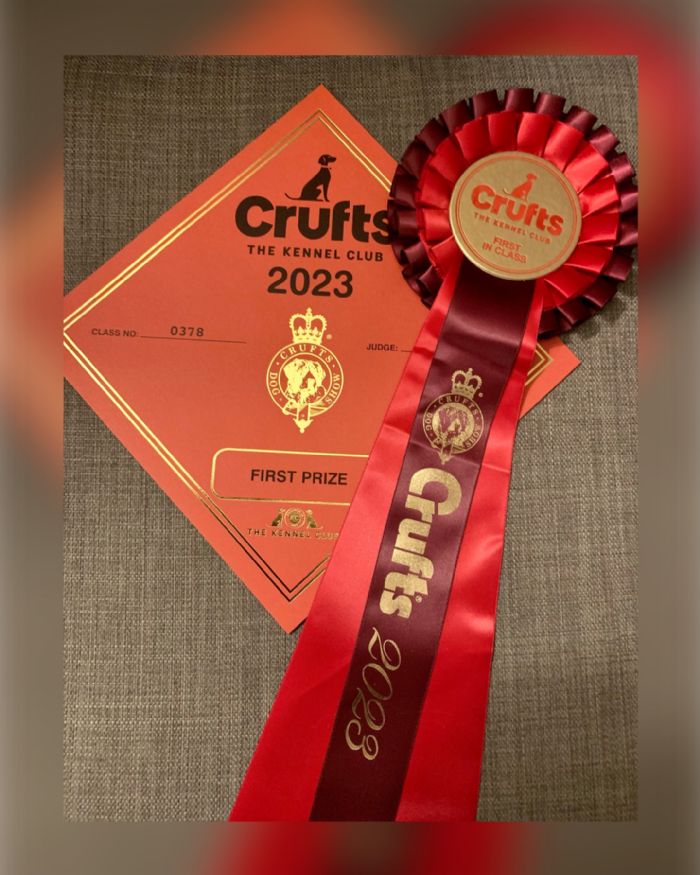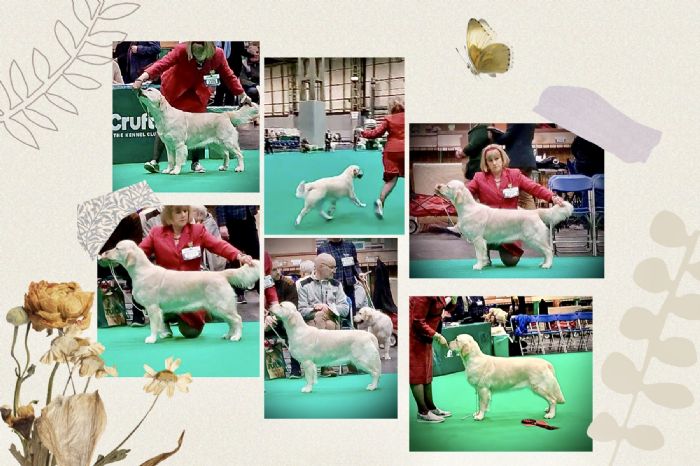 ~~~~~
5th March 2023
Coventry and District Gundog Club
Open Show
Judge: Mrs D Youngson
Rumour - 1st Open Bitch Class
** Res BEST of BREED **
Whisper - 4th Puppy Bitch Class
___
4th March 2023
Wath, West Melton & DCS
Open Show
Judge: Mrs Tracey Kelsall
Serena - 1st Junior D/B Class
*** BEST OF BREED ***
Bradley - 2nd Junior D/B Class
~~~~~
25th February 2023
Newark & District CS
Open Show
Judge: Mrs Stacey Bowden
Serena - 1st Junior D/B Class
** Res BEST of BREED **
~~~~
Gloucester & DCS
Open Show
Judge: Mrs Sue Shinkfield
Bradley - 1st Junior D/B Class
~~~~
18th February 2023
Dukeries Gundog Club
Open Show
Judge: Mrs J Gerhold
Serena - 1st Junior D/B Class
** Res BEST of BREED **
~~~~~
15th February 2023
United Retriever Club
Open Show
Judge: Mrs A Price
Bradley - 1st Junior Dog Class
~~~~~
12th February 2023
Golden Retriever Club of Wales
Championship Show
Judges: Mrs J Ward (Dogs)
Mrs S Ross (Bitches)
Serena - 2nd Junior Bitch Class
Bradley - 4th Junior Dog Class
__________
4th February 2023
Isle of Ely CS
Premier Open Show
Judge: Mrs Jane Eyeington (Meadowdale)
Serena - 1st Junior Dog/Bitch Class
Critique -
1. Ms List - Haydengold Gossip Girl JW - Super 14 month old pale bitch, she caught my eye for her typical outline and sound construction. Feminine head, with a lovely dark eye and pigmentation giving a gentle expression. Having a good flow from nose to tail, whilst holding a level topline. She has a well filled in forechest and the brisket is down to the elbow with well sprung ribcage. Liked her hindquarters with wide thighs, a good bend to the stifle and in good muscle tone. A little out of coat, but beautifully presented and moved out well in the class, such a shame she seemed a little unsettled in the challenge.
~~
29th January 2023
Coalville & DCS
Open Show
Judge: Miss Anneli Ives (Balsamina)
Serena - 1st Junior Dog/Bitch Class
** Res BEST of BREED **
Critique -
1. List's Haydengold Gossip Girl JW - A beautiful cream bitch who fills your eye with her flowing, balanced outline. She was not in her best coat today but there is no denying her quality. With a pretty feminine head, she has a good forehand, standing on straight legs with catlike feet. She has well-bent stifles. Moved well whilst holding her topline. Considered for BOB today, but sadly she was not quite settled in the challenge. I was happy to award her with the RBOB.
Bradley - 2nd Graduate Dog/Bitch Class
Critique -
2. Archers' Haydengold Just a Rumour at Sunandair JW - A different type from 1 but I liked this boy a lot. He has a masculine head but without being coarse. A good reach of neck, with correct front angulation. Level topline, short coupled with a good bend of stifle. He was very well presented with a lovely outline when he stood. Moved soundly.
~~
28th January 2023
Lichfield CS
Premier Open Show
Judge: Mr Neil Straw
Serena - 1st Junior Bitch Class
* Best Bitch *
** BEST of BREED **
~~
Wellingborough & DCS
Open Show
Judge: Miss Kate Hurry (Cattnels)
Bradley - 1st Junior Dog Class
Peri - 2nd Limit Dog Class
~~
21st January 2023
Manchester
Championship Dog Show
Judge: Mrs Fiona Clarkson (Drumkilty)
Serena - 3rd Junior Bitch Class
Whisper - 4th Minor Puppy Bitch Class
~~
6th January 2023
Boston DCS
Championship Show
Judge: Mrs Lorraine Tooth (Ludalor)
Remy - 3rd Limit Bitch Class
Serena - 4th Junior Bitch Class
~~~